On September 20th we will be starting a weekly bible study entitled Matthew: Making Disciples for the Nations. This study will cover Matthew Chapter 1 through 13, where we will dive deep into this gospel, using the Reformed Expository Bible Study guide written by Jon Nielson and Daniel M. Doriani.
The group will meet at 6:15 pm in the Church Library on Wednesday nights. Please contact the office or Jon Sole to sign up and find out how to get a copy of the study guide. New participants can join at any time and please feel free to just show up, we would be glad to have you.
About the Study Guide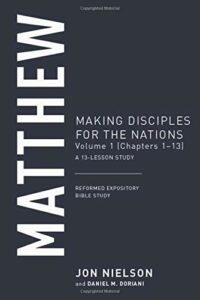 "The gospel of Matthew is a wellspring of instruction on daily Christian living. Matthew writes to make disciples, forming the minds, hearts, and hands of believers in light of the new covenant. In Matthew 1-13, Jesus establishes what it means to be a disciple, verifies his authority with miracles, and sends out his apostles to proclaim the kingdom of God.
Designed for groups and individuals, this Reformed Expository Bible Study gives users the resources they need to delve into God's Word and understand and apply it for themselves, leading to biblical transformation. Background information and commentary lay the groundwork before readers observe and analyze the Scripture text. Each of the thirteen lessons makes connections to the rest of the Bible and to Reformed theology before concluding with a section for personal application and a prayer prompt."